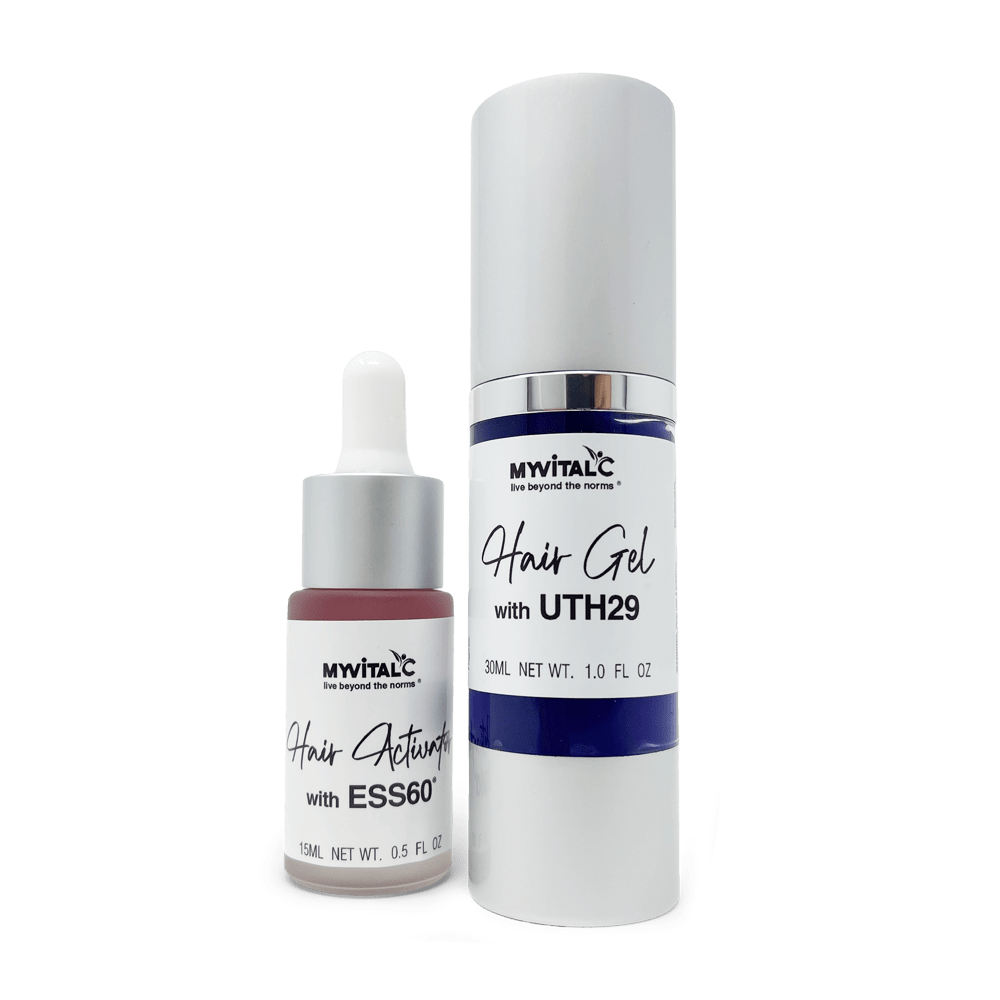 Hair Gel Set
ESS60® UTH29® Dual Action
One time Purchase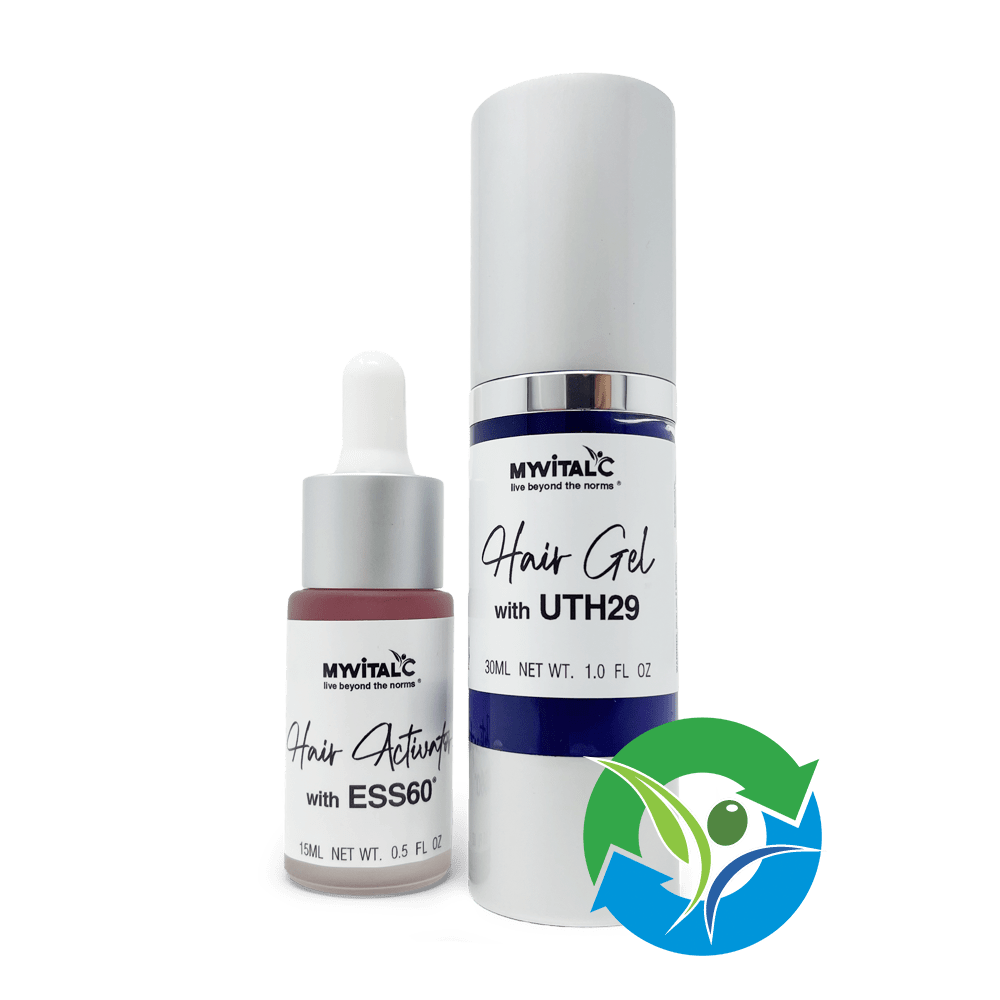 Hair Gel Set
ESS60® UTH29® Dual Action
On Subscription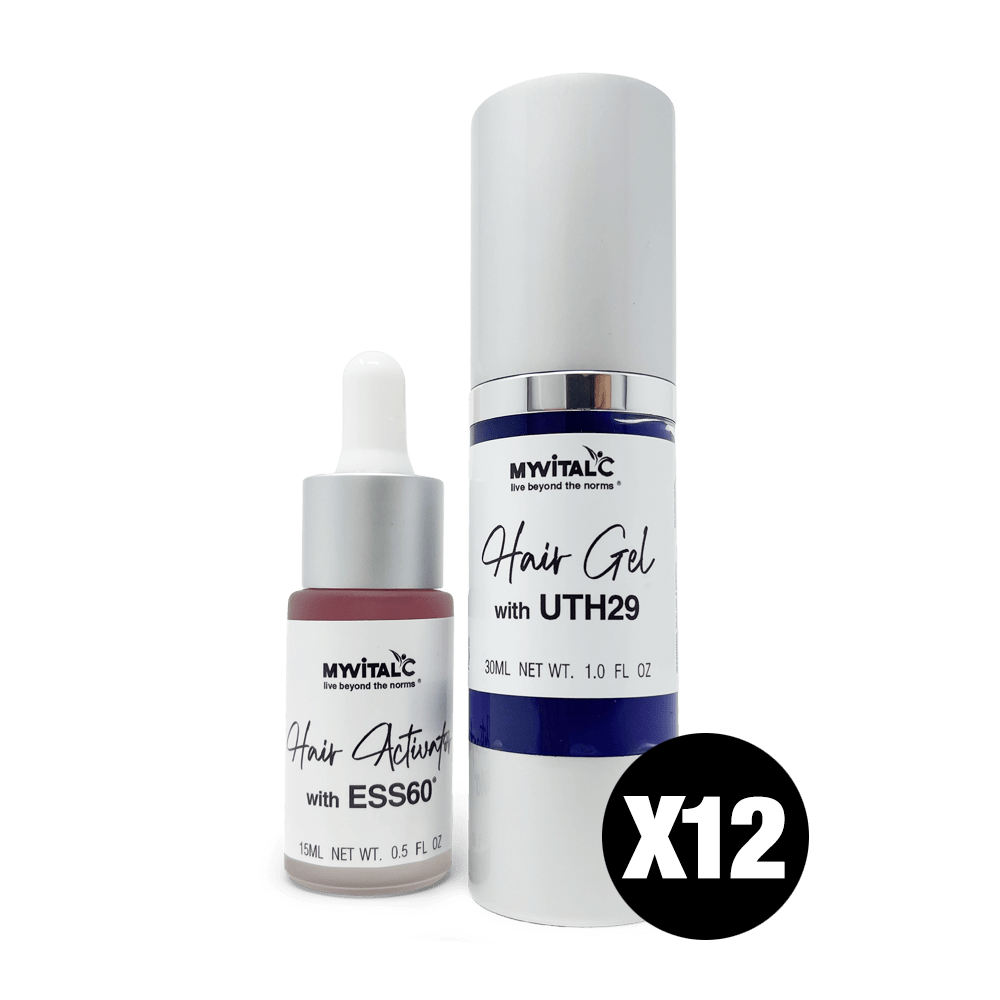 Hair Gel Set
ESS60® UTH29® Dual Action
Buy Case of 12 and Save!
Hair Gel Set – Gel & Activator – MYVitalC
Promote healthy hair growth with MyVitalC Hair Gel with UTH29 and activator with ESS60. Grow back your luscious locks and improve your graying hair with our formula of UTH29 and ESS60. As we age, the hair follicles weaken and growth slows down. UTH29 Hair Gel increases hair follicle size which is attributed to thicker and fuller hair. It stimulates blood flow to the scalp to provide the hair with oxygen and nutrients to support hair rejuvenation. Avoid chemical emulsifiers by using our 2 step system. One part provide.
INGREDIENTS:
Hair Gel: Organic Aloe Leaf Juice (Aloe Barbadensis), Phenoxyethanol, Triethanolamine, Glycerin, Provitamin B5 (DL-Panthenol), Witch Hazel Water (Hammamelis Virginiana), DMAE Bitartrate (Dimethylaminoethanol Bitaetrate), Alcohol, Carbomer, Tetrasodium Glutamate Diacetate, Copper Peptide, Fragrance.
Hair Activator: Organic MCT with ESS60, Rosemary Oil, Fragrance, and Peppermint Oil.
---
DIRECTIONS::
Hair Gel: Gently press down the dispensing pump until the desired amount is in your palm. If using the recommended activator, add 2 – 3 drops for each pump and mix well. Using your fingertips, massage thoroughly into the scalp.
Hair Activator: In palm, add 2-3 drops of hair activator per pump of Hair Gel and mix well. Using your fingertips, massage thoroughly into the scalp.
---
VOLUME:
Hair Gel: 30 ML NET WT. 1.0 FL OZ
Hair Activator: 15 ML NET WT. 0.5 FL OZ
---
WARNINGS:
Stop use if irritation occurs. Keep out of reach of children. For external use only.