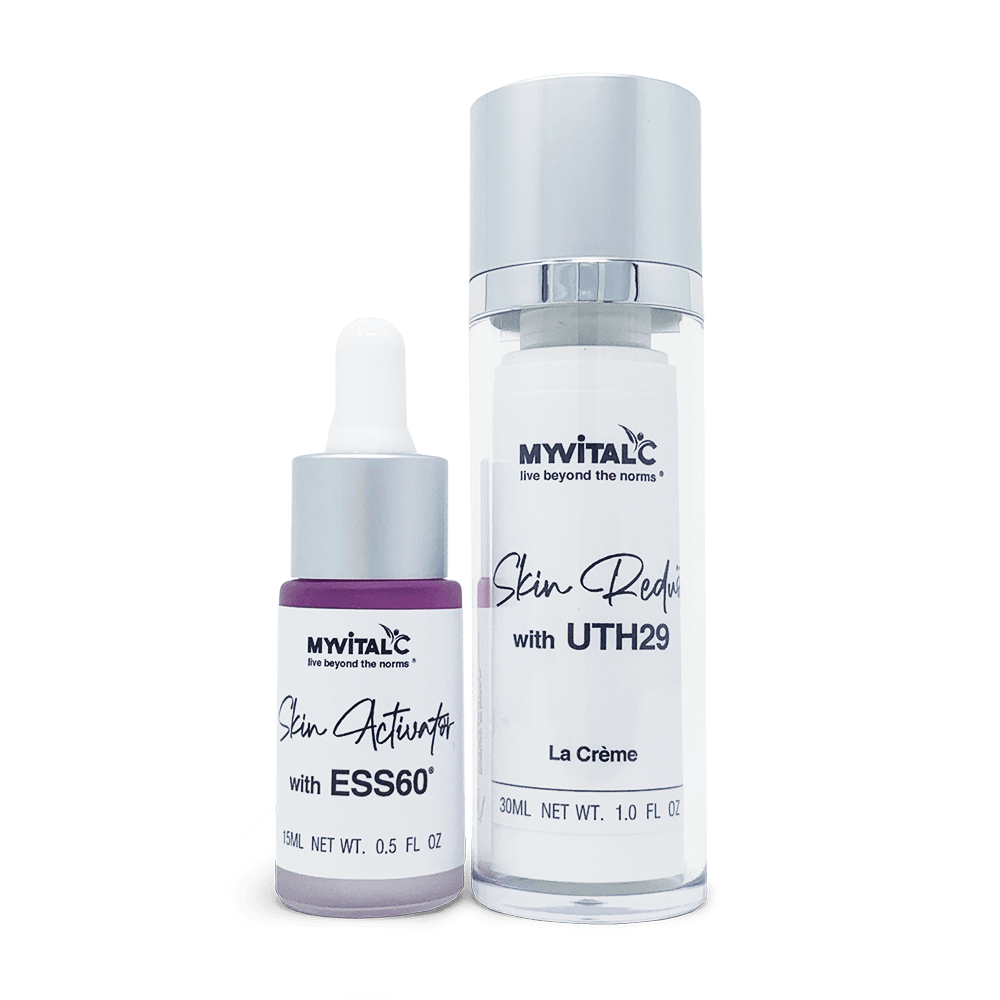 One time Purchase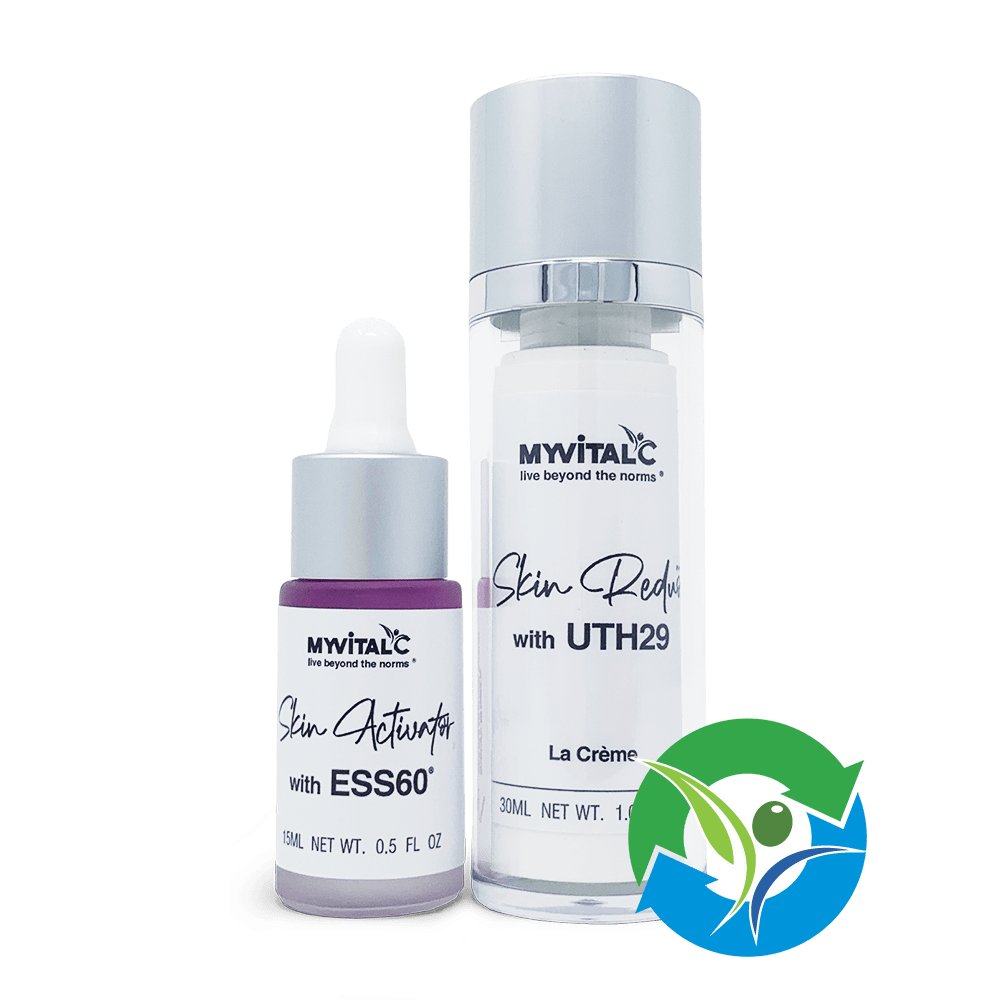 On Subscription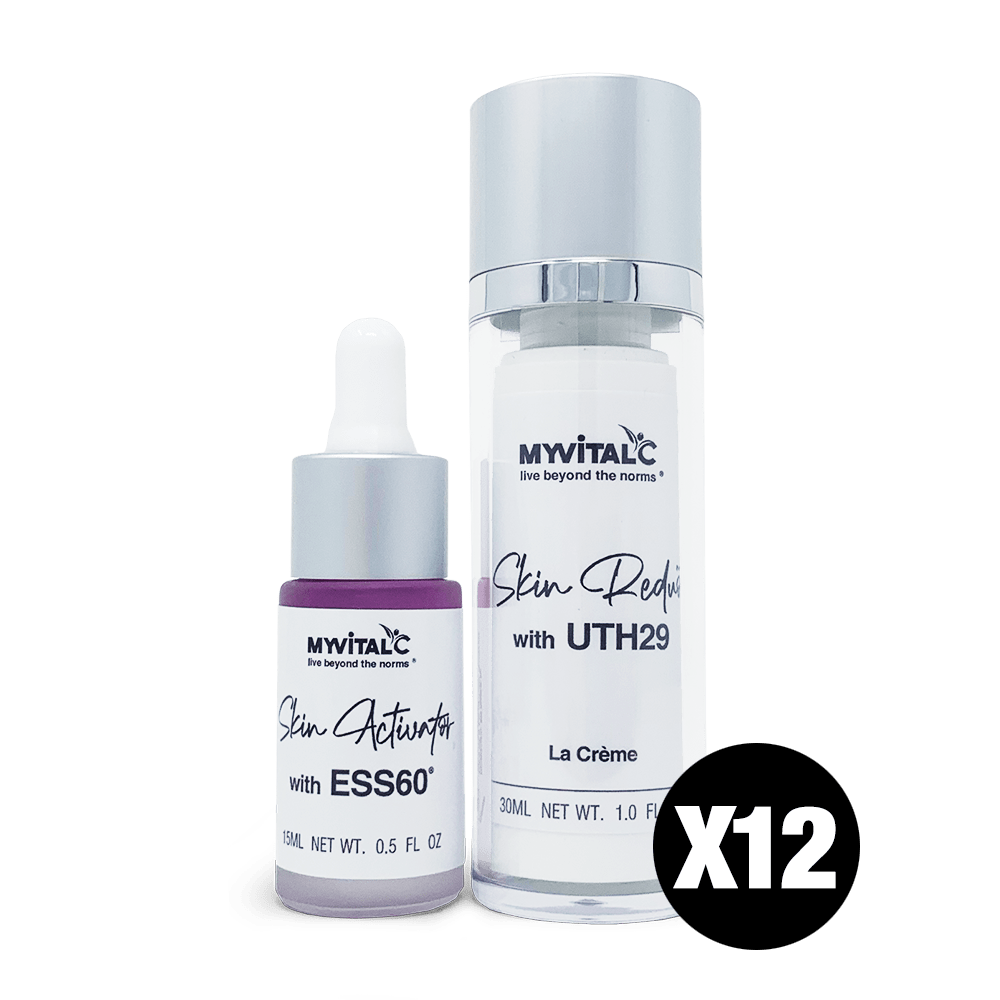 Buy Case of 12 and Save!
Skin Reduõ Set – Le Crème & Activator – MyVitalC
Protect, heal and renew skin. UTH29® known to reduce fine lines and wrinkles and improves the appearance of your skin.
Increase Collagen and elastin production for firmer skin
Support wound healing and tissue repair
Diminish fine lines and wrinkles
Protect skin barrier
Reduce photodamage and skin spots
Damask Rose has long been used in beauty and aromatherapy. The activator moisturizes dehydrated skin and improves tone and texture, soothes irritation, and softens skin. UTH29® le crème plumps, renews and rejuvenates skin. Avoid chemical emulsifiers by using our 2 step system. Can be used for all skin types
INGREDIENTS:
Skin Reduõ La Crème: Water, Goat Milk, Copper Peptide, Safflower Oil, Shea Butter, Natural Vegetable Emulsifying Wax, Vegetable Stearic Acid, Aloe Vera Juice, Vegetable Glycerin, Silver Dihydrogen Citrate, White Tea Essential Oil, Green Tea Essential Oil and Eucalyptus Essential Oil.
Skin Activator: Organic MCT Oil, ESS60®, Damask Rose Oil, White Tea Essential Oil, Damascus Rose Oil and Rosemary Essential Oil.
---
DIRECTIONS::
Skin Reduõ La Crème: Twist up to reveal pump. Gently press down on the pump to dispense desired amount into palm. If using the recommended activator, add 2 drops for each pump and mix well. Apply to Face and Skin.
Skin Activator: In palm, Add 2 – 3 drops of skin activator per pump of La Crème, mix well. Apply to Face and Skin.
---
VOLUME:
Skin Reduõ La Crème: 30 ML NET WT. 1.0 FL OZ
Skin Activator: 15 ML NET WT. 0.5 FL OZ
---
WARNINGS:
Stop use if irritation occurs. Keep out of reach of children. For external use only.