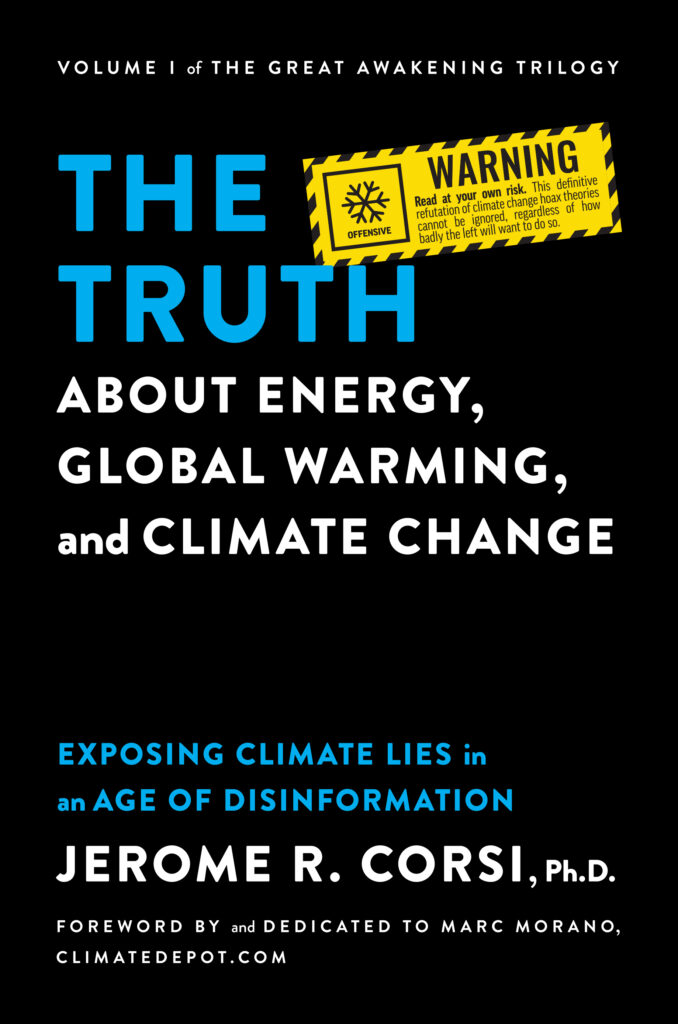 Since 1995, the Intergovernmental Panel on Climate Change (IPCC) has led the scientific effort to document and develop a policy advancing the argument that anthropogenic CO2 emissions resulting from burning hydrocarbon fuels are causing a climate change disaster of unprecedented proportions.
In this book, Jerome R. Corsi exposes the political, scientific, and economic reasons for concluding the IPCC is an advocacy creation of the United Nations that masquerades as a scientific research community to push climate hysteria for globalist political purposes. Drawing extensively on scholarly published peer-reviewed literature in the fields of climate science, geology, astronomy, energy physics, and statistical methodologies. Dr. Corsi reframes the global warming argument from the realm of politics to the sphere of science where the discussion properly belongs.
Corsi explains how IPCC scientists have resorted to using fraudulent research methodologies to rig Earth temperature data to falsely claim that anthropogenic CO2 emissions have caused unprecedented global warming and catastrophic climate change in a pattern that became evident in the late 1990s. He documents how the Biden administration has entered a new area of politicized science, waging war on hydrocarbon fuels through public policy dictates that mandate the use of renewable energies, resulting in energy disaster and economic suicide.
The Truth About Energy, Global Warming, and Climate Change is a definitive source of information why the neo-Marxist "Green New Deal" must be defeated. Dr. Corsi establishes his case with carefully reasoned scientific arguments that are well researched and fact-based.
Jerome R. Corsi has published twenty-five books on economics, history, and politics, including six New York Times bestsellers, two at #1. From 2004-2016, Dr. Corsi was a senior editor at World Net Daily.com, where he authored hundreds of articles.
The Truth About Energy, Global Warming, and Climate Change is his third book on energy, climate change, and global warming. In Black Gold Stranglehold: The Myth of Scarcity and the Politics of Oil (2005), Dr. Corsi correctly predicted that oil would hit $100 a barrel when oil industry experts thought a price that high would never happen. In The Great Oil Conspiracy: How the U.S. Government Hid the Nazi Discovery of Abiotic Oil from the American People (2012), Dr. Corsi argued that German chemists in the Weimar Republic formulated the chemical equations describing how the mantle of the Earth creates abiogenic hydrocarbons.
The Truth About Energy, Global Warming, and Climate Change exposes the climate change hoax as a political movement aimed at eliminating capitalism by spreading alarming information that to "Save the Earth" from global warming, we must reduce carbon dioxide emissions by switching from hydrocarbon fuels to renewable energies.
Reviews: The Truth About Energy, Global Warming, and Climate Change
Dr. William Happer
professor emeritus in the Department of Physics, Princeton University; chair of the university research board, 1995–2005; winner of the Thomas Alva Edison Patent Award in 2000.
"Corsi's new book is a trove of information, especially about the people and motives that have driven the current climate frenzy. The discussion of climate science, especially the dominant role of the sun and clouds, is very good. There are also fascinating discussions of unfashionable and perhaps incorrect scientific theories like abiogenic hydrocarbons or alternatives to plate tectonics. These help to clarify the all-too-human nature of science, and how hard it is initially to distinguish between a paradigm shift and a mistake, like today's alarm over 'carbon pollution.'"
Dr. Luboš Motl
physicist, former faculty at Harvard University.
"Corsi, a bestselling author of books about mainstream political issues, proved to be a powerful enough mind to brilliantly deconstruct a seemingly scientific topic, the fight against climate change. He sees the fear as wildly exaggerated. Sunspots, cosmic rays, and oceans as more important for the climate than carbon dioxide. The book is not afraid of delicate scholarly topics such as chaos theory, the chemistry of Earth's core, and the extinction of dinosaurs. But for Corsi, the movement is primarily a social phenomenon that arose through the integration and evolution of several left-wing factions and ideologies including Malthusians who neglect the human intellect. The tampering of the data by the favored researchers, failed green economic policies, limitations of electric cars and other hyped technologies, as well as natural processes such as the carbon cycle are described in a way that is as detailed and sourced as it is devastating. Corsi's decision to dedicate the book to Marc Morano also proves his profound understanding of this vitally important ongoing conversation."
Dr. Richard S. Lindzen
professor emeritus of Atmospheric Sciences at the Massachusetts Institute of Technology; former Alfred P. Sloan Professor of Meteorology at the Massachusetts Institute of Technology.
"Corsi provides an eye-opening history of the contextual background for the hysteria accompanying climate change as well as descriptions of a wide range of thinking about the history of the planet—thinking that illustrates both the insights and fallibility of the scientific enterprise."
Joe Bastardi
chief forecaster at WeatherBELL; author of The Climate Chronicles and The Weaponization of Weather in the Phony Climate War.
"Many books have been written on what I believe is a phony climate war. Dr. Corsi's treatment of this situation with across-the-board irrefutable facts and impeccable sources is a primer on how to blow away any argument on this matter. His attack seems to be on two fronts: 1) showing there is no emergency and then 2) exposing the why behind the what on the matter, the evil intentions of destroying the freedom of the individual. With twenty-five books under his belt and a man known for standing his ground when the truth is on his line, there is no better source to have than this book. I do not believe there is a climate war (it's nature and not man in control), but I do believe there is a battle raging using climate and weather to take down our way of life. I can think of no better source to have in the trenches than Dr. Corsi and his book. In fact, let's flip that around: I hope I am worthy to just be around someone like this as his writings and actions are light in a world filled with the darkness of non-truths."
Dr. William M. Briggs
climate statistician who served on the American Meteorological Society's Probability and Statistics Committee.
"Corsi's book is a must-read to discover just how unserious, inept, and over-certain proponents of global warming of doom are. Their 'solutions,' like battery-powered airplanes, ranging from comical to scandalous. None of them would do a thing to fix what doesn't need to be fixed."
Dr. Ed Berry
physicist and American Meteorological Society Certified Consulting Meteorologist.
"Corsi has achieved the almost impossible. He shows how partisan politics and incompetent climate science have combined to distort energy economics. He describes how different views about population, hydrocarbons, capitalism, and racism have complicated the use of truth in climate science and politics. He shows how nature, not our carbon dioxide, controls the Earth's temperature. Corsi explains why we must think clearly in politics, science, and energy if we are to safeguard our economy, our freedom, and our lives."
Order a signed first-printing copy of The Truth About Energy, Global Warming, and Climate Change